Summary
Current Position: US Senator since 2018
Affiliation: Democrat
Candidate: 2021 US Senator
I ran for Senate in order to be a voice for reason in the turmoil of modern Washington. Now that I've been elected, I want to bring the hope of justice and fairness back to all Alabamians. Too many Alabamians don't believe our government is serving them.
The issues that affect our daily lives – healthcare, wages, true equality for all – have become bargaining chips between parties. These common causes must not be obscured by the fog of political rhetoric. My heart has always impelled me towards public service. Whether you voted for me or not, I care about justice and progress for you and your family, and I'm in the Senate to return dignity to the citizens of Alabama.
Source: Campaign page
Twitter
About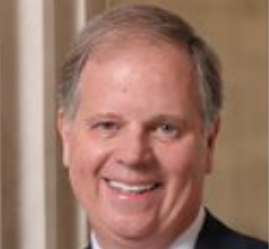 Source: Government page
Senator Doug Jones has spent his life working to make Alabama a better place. Born in Fairfield in 1954 to a U.S. Steel worker and a stay-at-home mom, he grew up in Alabama during a period of great change and played a critical part of helping the state and her people overcome some of their darkest days. His early years forged his values and a sense of responsibility to treat everyone with dignity and respect.
Senator Jones grew up during the tumultuous era of public school desegregation in Alabama. From a young age, he was drawn to fighting for what is right.  He also found a love for politics and organizing through his volunteer work with campus affairs at the University of Alabama and in a statewide campaign to modernize Alabama's court system.
After graduating from Cumberland School of Law at Samford University, he worked as staff counsel to the U.S. Senate Judiciary Committee for Senator Howell Heflin. Following his stint in Washington, Senator Jones served as an Assistant United States Attorney from 1980-1984. He left government service in 1984 and was in the private practice of law in Birmingham, Alabama, until President Bill Clinton nominated him to the position of United States Attorney for the Northern District of Alabama. His nomination was confirmed by the Senate in November 1997 and he served as U.S. Attorney until June 2001. It was while serving in that position that Senator Jones successfully prosecuted two of the four men responsible for the 1963 bombing of the 16th Street Baptist Church—finally bringing full justice and closure nearly 40 years after the attack that killed four young girls. Along with taking on the Ku Klux Klan, he indicted domestic terrorist Eric Rudolph and prosecuted other criminals who sought to use fear, hatred, and violence to inhibit the rights of others.
Since his election to the Senate in a special election held on December 12, 2017, Senator Jones has brought that lifelong passion for justice and commitment to service to his role in the United States Senate. He understands that public service is a privilege that comes with the responsibility of making the country better for all Americans, regardless of their backgrounds or political views. He will continue to fight to increase access to affordable health care for every Alabamian and to make sure that every child in every ZIP code has access to high-quality education. He will fight for responsible economic development to ensure that both businesses and their employees prosper in Alabama.
Experience
Education
Offices
HUNTSVILLE
200 Clinton Avenue, West
Suite 802
Huntsville, AL 35801
Phone: (256) 533-0979
Fax: (256) 533-0745
BIRMINGHAM
Vance Federal Building
1800 5th Avenue North
Birmingham, AL 35203
Phone: (205) 731-1500
Fax: (205) 731-0221
MONTGOMERY
Federal Courthouse
1 Church Street
Suite 500-B
Montgomery, AL 36104
Phone: (334) 230-0698
Fax: (334) 293-9349
DOTHAN
100 West Troy Street
Suite 302
Dothan, AL 36303
Phone: (334) 792-4924
Fax: (256) 533-0745
WASHINGTON
330 Hart Senate Office Building
Washington, DC 20510
Phone: (202) 224-4124
Web
Government Page, Twitter, YouTube, Facebook
Politics
Recent Elections
2017 US Senator
| | | |
| --- | --- | --- |
| Doug Jones (D) | 673,896 | 50% |
| Roy Moore (R) | 651,972 | 48.3% |
| TOTAL | 1,325,868 | |
Source: Ballotpedia
Finances
JONES, DOUG has run in 1 race for public office, winning 0 of them. The candidate has raised a total of $10,933,061.
Source: Follow the Money
Committees
Committees
United States Senate Committee on Banking, Housing, and Urban Affairs
United States Senate Committee on Banking, Housing, and Urban Affairs plays an integral role in managing legislation that affects the lives of many Americans. These areas of jurisdiction include, but are not limited to: banking, insurance, financial markets, securities, housing, urban development and mass transit, international trade and finance, and economic policy. The Committee is led by Chairman Mike Crapo (R-ID) and Ranking Member Sherrod Brown (D-OH).
United States Senate Committee on Health, Education, Labor and Pensions
The United States Senate Committee on Health, Education, Labor and Pensions has broad jurisdiction over our country's health care, education, employment and retirement policies. The Committee is led by Chairman Lamar Alexander (R-TN) and Ranking Member Patty Murray (D-WA).
United States Senate Committee on Armed Services
The United States Senate Committee on Armed Services has jurisdiction on matters relating to the common defense policy of the United States. The Committee is led by Chairman James Inhofe (R-OK) and Ranking Member Jack Reed (D-RI).
United States Senate Special Committee on Aging
The United States Senate Special Committee on Aging has served as a focal point in the Senate for discussion and debate on matters relating to older Americans. In addition, the Committee publishes materials of assistance to those interested in public policies which relate to the elderly. The Committee is led by Chairman Susan Collins (R-ME) and Ranking Member Bob Casey (D-PA).
Voting Record
See: Vote Smart
Issues
Civil Rights
In the United States of America, everyone should be able to live without fear of discrimination. Period. I am committed to working against all forms of discrimination, including in housing and employment. This freedom includes a guarantee of equal pay for equal work. As a former U.S. Attorney, I also know all too well that we need to make common-sense reforms to our criminal justice system.
One of the special hallmarks of our democratic society is the right to vote in free and fair elections, and I am dedicated to protecting each individual's right to participate fully in the electoral process. That's why I cosponsored legislation that targets practices known to suppress voting. I'm also co-sponsoring legislation to prohibit the communication of false information with the intent to prevent or interfere with another's right to vote.
Economy
We need to build a strong economy that attracts new businesses to Alabama, allows existing Alabama businesses to expand and provides our workers jobs that pay a living wage—not just a minimum wage—and equal pay for equal work.
I have made it a priority to ensure that Alabama is ready to compete in a 21st century economy. To do that, we must provide the necessary tools for our young people to advance their careers, including quality schools, accessible secondary education, and vocational training programs that prepare students for careers in our 21st century economy.
I understand the unique challenges that Alabama businesses face, particularly when it comes to accessing high-speed internet than can help keep them competitive. That's why I've made expanding broadband access in urban and rural areas a priority. And as a member of the Senate Banking Committee, I've worked on common-sense reforms that allow businesses to access the capital they need and reduce overreaching regulations that limit growth.
We need to protect Alabama businesses from unfair trade practices, understanding that Alabama has become an exporting state. Whether it is automobiles or farm products, access to foreign markets is vital because the customer bases for many Alabama businesses are overseas.
These policies will benefit all Alabamians and will help build a stronger economy that keeps our state competitive for decades to come.
Education
Every Alabamian deserves access to quality education, regardless of their ZIP code. From pre-K to college to job training, our students need to be well prepared. I am committed to working with students, teachers, parents, administrators, and school board members to find proactive solutions to improve our education systems at every level.
For those who want to attend college, that education should not come with an enormous price tag that leaves students struggling to pay off debt for years. I support finding common-sense solutions to reduce those costs and ease those burdens. I am a proponent of better funding for childcare on college campuses and an open textbook pilot that will create significant student savings.
Our Historically Black Colleges and Universities (HBCUs), as well as all other minority-serving institutions, are vital to our higher education system in Alabama. Our HBCUs need to be preserved and supported, and I will continue to be a vocal advocate for them in the Senate.
I also understand that college is not for everyone. Career and technical education (CTE) programs are critical to ensure that Alabama and our country remain competitive. I believe in strengthening the CTE programs so that we have a strong workforce pipeline to support our booming industries in Alabama.
Environment
As an avid hunter and fisherman, I understand the importance of protecting our environment and preserving our natural resources for future generations. From Little River Canyon to Dauphin Island, Alabama is home to many natural wonders. We rely on our environment not just for its beauty, but also as a driver of our state's economy. I'm fighting to preserve Alabama's outdoor treasures by cosponsoring legislation to permanently authorize the Land and Water Conservation Fund (LWCF). This legislation will ensure Alabama's rivers and wilderness can be enjoyed for generations to come.
Businesses also have a role in protecting our environment. Climate change is a scientific reality, and it is important to work with other nations to promote business practices that are environmentally friendly without burdening them with unnecessary and expensive regulations.
Health Care
Every American deserves access to high-quality, affordable health care. As a member of the Senate Health, Education, Labor and Pensions (HELP) Committee, I've been working across the aisle on policies that expand access to care, promote innovation, and reduce costs for families.
After I was sworn into the Senate in January 2018, the first bill I cosponsored was a bill to protect the Children's Health Insurance Program (CHIP). Although Congress had allowed the CHIP program to expire in 2017 and in doing so put more than 150,000 Alabama children who rely on the program at risk, I'm proud that our efforts paid off and Congress ultimately reauthorized and funded the program for the next 10 years.
In Alabama we also face significant challenges in providing health care for many of our rural communities. I am working to reverse the trend of hospital closures and ensure that rural areas have an adequate health care workforce. As a member of the Senate Special Committee on Aging, I've worked with my colleagues to advocate for Alabama's seniors and will work to protect Medicare and Social Security, not only for current beneficiaries, but for generations to come.
Infrastructure
Transportation and Infrastructure
Businesses look at a community's infrastructure when deciding where to locate. Unfortunately, many of our roads and bridges are badly in need of repair. In the more populous areas of the state, traffic congestion demands wider roads or new tunnels. Because Alabama cannot afford such expensive infrastructure repairs without federal assistance, I am urging my colleagues in the Senate to pass legislation that will help pave the way for Alabama's future.
Alabama also has urgent water and sewage infrastructure needs. I have spoken directly to President Trump about how important these projects are to our state. Because every Alabamian should have access to clean drinking water and sanitary sewage systems, I sponsored two bipartisan bills that would address these challenges in rural Alabama. I am proud that one of these bills was included in the Senate's 2018 Farm Bill.
Safety
Keeping Alabamians safe and secure is my first priority. As a member of the Senate Armed Services Committee, I am working with my colleagues to keep our communities safe from threats both at home and abroad.
I also believe in the importance of taking care of our military personnel and families, because they take care of us. This means giving our servicemen and women the resources they need while deployed and in combat and providing the tools they need to transition seamlessly into the workforce when they return home.
From Redstone Arsenal to Maxwell Air Force Base, from Ft. Rucker to Anniston Army Depot, Alabama does as much for our national defense as any state, and I will continue to fight for these brave men and women every single day.
Veterans
Veterans and Military Families
Those who served our nation in the armed forces deserve more than our thanks. Our veterans deserve full support and resources while in service and the best medical care and benefits possible when return to civilian life.
Our responsibility extends to military spouses and other family members as well. When military service members must relocate from one base to another, I believe that our government can and should ease the transition by helping their spouses find work.
Energy
Alabama is home to a variety of energy sources, from hydropower to nuclear. I believe we need to preserve access to safe, affordable energy for every Alabama family. Alabama is also home to a growing alternative fuels industry. From electric buses in Anniston to biofuels across the state, Alabama is a leader in this industry.
Broadband Acces
Every Alabamian should have access to high-speed broadband internet. So much in medicine, banking, and education occurs online these days, and communities without high-speed access risk being left behind. Businesses looking to open or expand in Alabama tell me that broadband access is critical to their decision about where to locate. I have fought for additional broadband funding for Alabama communities through the appropriations process and the Farm Bill, and I will continue to do so at every opportunity.
Agriculture
Alabama is fortunate to have rich and abundant farmlands. In fact, our great state has more than 43,000 farms that cover roughly 8.9 million acres. That is why I want to provide farmers with strong safety nets, preserve our lands, and maintain strong support for nutrition programs.
As the Senate prepared to pass the Farm Bill in 2018, I worked to make sure that Alabama's farmers and producers were well-served by this important legislation. Alabama farmers deserve a bill that will protect them when commodity prices are low. I also supported efforts to help assist minority farmers, veteran farmers, and new farmers.
Broadband is equally important to farmers as a tool to innovate and work smarter. I'm proud to have supported efforts in the Farm Bill that will ease the challenges many face in that respect.
As we prepare the next generation to become producers, it is important to me that they have all the tools they need to thrive. I am committed to preserving trade policies that benefit our farmers and investing in new research so our state and nation can remain competitive.