Summary
Current Position: US Representative for AL 6th District since 2015
Affiliation: Republican
Former Position: Co-founder of the Alabama Family Alliance from 1989 – 2014
Other positions:
Chair, House Republican Policy Committee
Featured Quote: 
The CDC's reversal on masks is only the latest example of how it has sown distrust and confusion in the American people with its conflicting guidance. I was proud to join my colleagues on this letter in demanding transparency and answers.
Featured Video: 
Is America Beyond Hope In 2020? with Congressman Gary Palmer
News
Washington, D.C. – Congressman Gary Palmer (AL-06) released the following statement in reaction to today's terror attacks in Kabul that led to the deaths of American soldiers and Afghan civilians:
"I am heartbroken and infuriated by the reports coming out of Afghanistan," Palmer said. "President Biden's incredibly stupid decision to set August 31st as the evacuation deadline, his failure to maintain control of Bagram Airbase, and his failure to secure exit routes for the safe and orderly evacuation of American citizens and Afghan allies have led to this tragedy. Over the last 18 months, no U.S. military members were killed, but today we have lost at least 12. This tragedy was preventable and unnecessary, and it is time for President Biden and his administration to take full responsibility for it.
"Twelve American soldiers are now dead, yet the American people have had to wait hours to hear from the President. Whatever his message of condolences might be, it will ring hollow in the face of such incomprehensible incompetence. With our forces essentially surrounded by ISIS-K and the Taliban, President Biden needs to face the crisis head on and react with swiftness and force to make sure we get our people and our allies safely out," Palmer said.
Palmer continued, "Speaker Pelosi has also demonstrated a stunning lack of focus on what has now become a major national and international security crisis. I fully support Republican Leader Kevin McCarthy's call on Speaker Pelosi to call Congress back into session to address this crisis. Speaker Pelosi called Congress back into session to pass the Democrats' massive tax and spending bill, so she should call us back into session to help make sure that we get our citizens and allies out of Afghanistan and avoid additional Biden Administration humiliation. Ann and I are praying for the families who have lost loved ones and for the families of the soldiers who lost loved ones during the war in Afghanistan whose hearts must also be breaking."
Twitter
About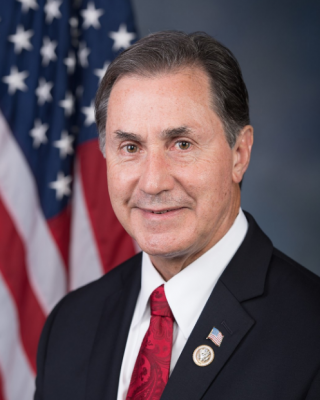 Source: Government page
Mr. Palmer, who grew up in Hackleburg, a small town in Northwest Alabama, now lives in Hoover and represents Alabama's 6th Congressional District.  Mr. Palmer attended the University of Alabama and was the first person on either side of his family to attend college. In addition, he was a walk-on member of the football team under legendary football coach Bear Bryant.  After earning a B.S. in Operations Management, he worked in the private sector for 12 years; including nine with two major engineering construction companies, before involvement with Focus on the Family lead him to start the Alabama Family Alliance which later became the Alabama Policy Institute.
Palmer served as President of the Alabama Policy Institute for 24 years. During his tenure, the Alabama Policy Institute became a full-spectrum public policy organization that engaged in virtually all policy issues that affected Alabamians.  It is considered the premier conservative think-tank in Alabama.
Palmer also was a founding member of the board of directors of the State Policy Network, an umbrella organization for various state-based think-tanks.  He served on the State Policy Network board for six years, the last two as chairman. Leading this broad coalition of policy thinkers gave Palmer exposure and knowledge of policy problems that confront all 50 states.  When State Policy Network was founded in 1992, there were fewer than 20 state think-tanks in their network.  Today, State Policy Network has 65 member organizations.
Palmer served on four different state commissions on behalf of three different Governors. He was appointed to the Welfare Reform Commission by Governor Fob James.  He also served as an advisor to Governor James' Aerospace, Science and Technology Task Force.  He was appointed to the Task Force to Strengthen Alabama Families by Governor Bob Riley, and the Alabama Commission on Improving State Government by Governor Robert Bentley.
In 2014, he was elected to the 114th Congress, having never served in office before. In Congress, Palmer is focused on paying down the national debt by cutting spending; regulatory reform by reducing the number and expense of federal regulations; lowering energy costs and spurring economic growth and job creation by accessing America's vast energy resources; and replacing Obamacare with a health care plan that puts people back in charge of their health care decisions and that will truly make health care affordable and available; and protecting life in all its forms.  Palmer serves on the Transportation and Infrastructure Committee and as Chairman of the Republican Policy Committee. He is also a member of the Republican Study Committee and its Steering Committee.
Palmer has been a member of the Rotary Club of Birmingham since 1993, and he is a Paul Harris Fellow.  He holds an Honorary Doctorate from the University of Mobile.  He and his wife Ann live in Hoover, Alabama where they attend Briarwood Presbyterian Church in Birmingham, Alabama.  They have three children, Claire, Kathleen and Rob.
Voting Record
Committees
House Republican Policy Committee (Chairman)
House Committee on Energy & Commerce
Subcommittee on Energy
Subcommittee on Environment & Climate Change
Subcommittee on Oversight & Investigations
Caucuses 
Freedom Caucus
Republican Study Committee
Experience
Work Experience
Chairman
Republican Policy Committee
2019 to present
Education
Personal
Birth Year: 1954
Place of Birth: Haleyville, SC
Gender: Male
Race(s): Caucasian
Religion: Christian: Presbyterian
Spouse: Ann Palmer
Children: Claire Palmer, Kathleen Palmer, Rob Palmer
Contact
Email:
Offices
Washington D.C. Office
207 Cannon House Office Building
Washington, DC 20515
Phone: (202) 225-4921
Fax: (202) 225-2082
Birmingham Office
3535 Grandview Parkway
Suite 525
Birmingham, AL 35243
Phone: (205) 968-1290
Fax: (205) 968-1294
Clanton Office
703 2nd Avenue North
Box 502
Clanton, AL 35045
Phone: (205) 280-6846
Oneonta Office
Blount County Courthouse
220 2nd Ave E
Oneonta, AL 35121
Phone: (205) 625-4160
Web
Government Page, Twitter, YouTube, Facebook, Campaign Site, Wikipedia
Politics
Source: none
Campaign Finance
Open Secrets – We Follow the Money
Voting Record
VoteSmart – Key Votes & Ratings
Search
Wikipedia Entry
Gary James Palmer (born May 14, 1954) is an American politician from the state of Alabama. Elected to the United States House of Representatives in 2014, he represents Alabama's 6th congressional district. The district includes the wealthier parts of Birmingham, as well as most of its suburbs. Before becoming an elected official, Palmer co-founded and served as the longtime president of the Alabama Policy Institute, a conservative think tank.[2] He is a member of the Republican Party and the House Freedom Caucus.[3] Since 2019, he has chaired the Republican Policy Committee.
Early life, education, and career
Palmer was born in Hackleburg, Alabama. His family lived on a 40-acre farm, where Palmer helped maintain the family garden and animals.[4]
Palmer has a bachelor's degree in operations management from the University of Alabama.[5] He was the first member of his family to earn a college degree.[4] He was a walk-on wide receiver for the Crimson Tide and played under Bear Bryant.[6] In 1989, Palmer co-founded the Alabama Family Alliance, which later became the Alabama Policy Institute. He served as its president for 25 years, stepping down in 2014 to run for Congress.[7] Palmer helped found the State Policy Network, a nonprofit umbrella organization for conservative and libertarian think tanks that focus on state-level policy, and served as its president.[8]
U.S. House of Representatives
Elections
2014
Palmer declared his candidacy for the 6th district following the retirement announcement of 11-term incumbent Spencer Bachus.[5] In a crowded seven-way Republican primary—the real contest in this heavily Republican district—Palmer finished second behind state representative Paul DeMarco. In the ensuing runoff election, Palmer picked up the support of the Club for Growth.[9] Despite outspending Palmer, DeMarco lost momentum after a botched debate with Palmer and never recovered. By election day, polls suggested Palmer would win the nomination by 30 points. Palmer won the runoff, 64% to 36%.[10] In the general election, he defeated Democratic nominee Mark Lester, a history professor at Birmingham-Southern College, 76% to 24%,[11] but he had effectively clinched a seat in Congress with his primary victory. With a Cook Partisan Voting Index of R+28, the 6th was tied with the neighboring 4th as Alabama's most Republican district.
Palmer has been reelected three times with only nominal opposition, running unopposed in 2020. He has only dropped below 70% once. In 2018, Democrat Danner Kline held him to 69.2%. Kline received 30.8% of the vote, the best showing for a Democrat in almost a quarter-century. It is the only time since the GOP began its current run in the seat in 1993 that a Democrat has managed 30% of the vote.
Tenure
Palmer took office on January 3, 2015, along with the other freshmen members of the 114th Congress. Conservative Review has graded Palmer's voting record an A with a Liberty Score of 100%. Palmer is one of only three House Republicans out of 247 to receive this highest possible grade.[12]
Palmer voted against the American Rescue Plan, an economic recovery and COVID-19 relief bill, in February 2021. His rationale for opposing the bill was that it was "not about COVID relief, but about the Democrat agenda", and a "repeat of the failed stimulus bill passed in 2009 under President Obama and then Vice President Biden."[13] Despite Palmer's claims, the American Rescue Plan is unrelated to the American Recovery and Reinvestment Act of 2009.
Palmer was criticized for touting funding for the Birmingham Northern Beltline that he added to the Infrastructure Investment and Jobs Act while neglecting to mention that he voted against the final bill.[14]
As of October 2021, Palmer had voted in line with Joe Biden's stated position 7.5% of the time.[15]
Committee assignments
Caucus memberships
Political positions
As of 2020, Palmer has a 92% rating for supporting conservative causes, according to Heritage Action for America.[18] The American Conservative Union's center for legislative accountability gave him a 97% lifetime conservative rating[19] and the progressive PAC Americans for Democratic Action gave him a 0% liberal quotient in 2019.[20]
Abortion
Palmer opposes legal abortion.[21] Palmer supported the 2022 overturning of Roe v. Wade.[22]
LGBTQ rights
Palmer has stated that allowing transgender people to use the bathroom of their choice is something "no reasonable person" would allow and said that "the safety implications for sexual predation have been well documented."[23] He opposes same-sex marriage, saying, "No one can change the fundamental nature of what marriage is: the union of a man and a woman and the formation of a family which is the foundation of every civilization."[24]
COVID-19
During the COVID-19 crisis, Palmer opposed proxy voting while Congress was unable to work onsite at the Capitol due to shelter-in-place orders.[25]
Drugs
Palmer voted to support medical marijuana research but opposes legalizing marijuana.[21]
Gun law
Palmer supports gun rights. He opposes what he deems unconstitutional gun restrictions. He supports efforts that enable legal gun owners to carry their guns, including concealed carry, over state lines.[26]
Health care
Palmer opposes the Affordable Care Act, calling it "a nightmare" and "job-killing." He supports efforts to repeal it.[27]
Homeland security
Palmer is pro-nuclear weapons. He supports increasing funding for the Defense Department specifically around work in the Middle East.[28]
Immigration
Palmer opposes illegal immigration to the United States, including allowing undocumented workers to work in the U.S. He supports efforts to deport undocumented immigrants.[29]
Tax reform
Palmer voted for the Tax Cuts and Jobs Act of 2017.[30] He said the bill would "put more money in the pockets of the American people" and "launch economic growth." He blamed the Obama administration and a "burdensome tax code that was designed for a 1986 economy" for an "anemic" economy.[31]
Overturning the 2020 election results
Palmer was at the Capitol to certify the 2020 presidential election results on January 6, 2021, when the attack on the Capitol took place. During the attack, Palmer tweeted that it was a "sad day" and that "the scenes we witnessed today were unacceptable."[32] After the attack, Palmer voted against certifying the election, objecting to Arizona's and Pennsylvania's electoral votes.[33][34] On January 13, Palmer blamed Donald Trump for "sending" the attackers to the Capitol.[35] He voted against impeaching Trump a second time, calling the second impeachment a Democratic "abuse of power" and a "sham process."[36]
In December 2020, Palmer was one of 126 Republican members of the House of Representatives to sign an amicus brief in support of Texas v. Pennsylvania, a lawsuit filed at the United States Supreme Court contesting the results of the 2020 presidential election, in which Joe Biden defeated[37] Trump. The Supreme Court declined to hear the case on the basis that Texas lacked standing under Article III of the Constitution to challenge the results of an election held by another state.[38][39][40]
Electoral history
Alabama's 6th congressional district Republican primary runoff, 2014

Party
Candidate
Votes
%
Republican
Gary Palmer
47,491
63.5
Republican
Paul DeMarco
27,295
36.5
Alabama's 6th congressional district election, 2014

Party
Candidate
Votes
%
Republican
Gary Palmer
135,495
76.2
Democratic
Mark Lester
42,291
23.7
Write-in
213
0.1
Total votes
178,449
100.0
Republican hold
Alabama's 6th congressional district election, 2016

Party
Candidate
Votes
%
Republican
Gary Palmer (incumbent)
245,313
74.5
Democratic
David Putnam
83,709
25.4
Write-in
284
0.1
Total votes
329,206
100.0
Republican hold
Alabama's 6th congressional district election, 2018

Party
Candidate
Votes
%
Republican
Gary Palmer (incumbent)
192,542
69.2
Democratic
Danner Kline
85,644
30.8
Write-in
142
0.1
Total votes
278,328
100.0
Republican hold
Alabama's 6th congressional district, 2020

Party
Candidate
Votes
%
Republican
Gary Palmer (incumbent)
274,160
97.1
Write-in
8,101
2.9
Total votes
282,261
100.0
Republican hold
Personal life
Palmer is married to Ann Cushing Palmer.[41] They have three children.[42]
When working in Washington, D.C., Palmer sleeps at his office on Capitol Hill.[41]
Palmer is a longtime member of Briarwood Presbyterian Church in Birmingham.
References
External links
Recent Elections
2018 US Senator for 6th District
| | | |
| --- | --- | --- |
| Gary Palmer (R) | 192,542 | 69.2% |
| Danner Kline (D) | 85,644 | 30.8% |
| Write-in () | 142 | 0.1% |
| TOTAL | 278,328 | |
Source: Ballotpedia
Finances
PALMER, GARY has run in 3 races for public office, winning 3 of them. The candidate has raised a total of $4,331,145.
Source: Follow the Money
Committees
Committees
Committee on Transportation and Infrastructure Members
House Select Committee on the Climate Crisis
Subcommittees
Economic Development, Public Buildings, and Emergency Management
Highways and Transit
Water Resources and Environment
Voting Record
See: Vote Smart
New Legislation
Source: Congress.gov
Issues
Source: Campaign page
Committees
Committee on Energy and Commerce

Subcommittee on Energy
Subcommittee on Environment and Climate Change
Subcommittee on Oversight and Investigations
Legislation
Issues
Religious Freedom:
The First Amendment to the Constitution states in part that "Congress shall make no law respecting an establishment of religion, or prohibiting the free exercise thereof." The free exercise includes not participating in activities that violate your religious beliefs. I have fought to protect religious freedom. I introduced an amendment to H.R. 5485, the Financial Services and General Government Appropriations Act. The amendment, which was adopted, protects religious liberty by prohibiting funds from being used to implement DC's Reproductive Health Non-Discrimination Act (RHNDA).
The Reproductive Health Non-Discrimination Act (RHNDA) could force employers in DC to cover abortions in their health insurance plans and require pro-life organizations to hire individuals who advocate for abortion. Freedom of religion does not stop at the District of Columbia's borders. Federal dollars, whether in D.C. or otherwise, must not be used to take lives or deny religious freedoms.
Energy & Environment:
America has a vast amount of energy resources, but instead of having the opportunity to harvest the energy, companies are faced with economy stifling environmental regulations. I have focused on reigning in the EPA. I introduced HR 3880, The Stopping EPA Overreach Act, which would prohibit the EPA from regulating greenhouse gases, an authority Congress never intended for the EPA to have. A coalition of organizations have written favor of the legislation.
CEI Lead Letter:
https://cei.org/content/cei-leads-coalition-supporting-stopping-epa-overreach-act
"Under the Constitution, it is the people's elected representatives who are empowered to make law, but executive branch agencies are more and more often ignoring the will of Congress. H. R. 3880 would require that the EPA follow the clear intent of Congress when it passed the Clean Air Act Amendments of 1990."
Director at Texas Public Policy Foundation:
http://www.texaspolicy.com/blog/detail/restrain-the-imperial-epa
"If Americans care about restraining this lawless assertion of federal regulatory power, the most important bill in Congress right now is H.R. 3880, introduced late last year by Rep. Gary Palmer (R-Ala.)."
As a member of the Oversight and Government Reform Committee, I have challenged the EPA for implementing regulations not rooted is science, and introduced EPA officials to real people like coal miners who have had their lives and livelihoods impacted by burdensome regulations. As al.com reported, I provided a voice to the Alabama coal miners: http://www.al.com/news/index.ssf/2016/06/gary_palmer_to_epa_listen_to_a.html
As a member of the Budget Committee I successfully advocated for a policy rider to lift the ban on exporting crude oil. Experts agreed that lifting the ban would create jobs and boost the economy. In December of 2015, as part of the omnibus spending package, the Congress lifted the ban on exporting crude oil.
Veterans:
I am grateful to each and every one of our veterans, both in Alabama and throughout America. Our national anthem calls America the 'land of the free and the home of the brave.' A popular rephrasing of that is that America is 'Land of the free because of the brave.' It remains free because brave citizens choose to join our armed forces and serve their country at all costs.
Defense:
I supported the National Defense Authorization Act of 2016 (NDAA), and look forward to working with President Trump to put a focus on a strong military, which is essential to the success of our nation. It is vital that we fund our military so that our national security is not at risk.
Budget:
Our national debt now exceeds $20 trillion. Increasing spending, while the Congressional Budget Office projects a shortfall in revenues, is not a path to fiscal responsibility. It is irresponsible to continue spending more than you earn.
Instead of increasing spending, I have offered my colleagues real solutions to reduce spending. As part of the most recent budget process, I pointed out to my colleagues that 22 government agencies made close to $125 billion in improper payments in 2014 and the IRS failed to collect at least $380 billion that same year. There is no reason to increase spending.
One way to reign in federal spending is through more oversight over federal agencies. To that end, I introduced HR 5499, the Agency Accountability Act, which would require agencies like DHS and t he CFPB to turn over all fines and fees collected to the U.S. Treasury, making them subject to appropriations. This prohibits agencies from spending money without transparency. The bill has received broad support:
FreedomWorks
http://www.freedomworks.org/content/end-federal-agencies-slush-funds
"This focused legislation will reign in federal bureaucrats and stop the murky practice of using fees from taxpayers to fund programs their representatives have not authorized."
Americans for Tax Reform
https://www.atr.org/atr-supports-hr-5499-agency-accountability-act-aaa
"H.R. 5499 is a positive measure to increase Congressional oversight over the actions of federal agencies, thus improving the overall transparency and accountability of the federal government."
Immigration:
I am opposed to amnesty for illegal immigrants. I signed the FAIR Congressional Task Force's No-Amnesty pledge to "oppose legislation that would grant any form of work authorization to illegal aliens." The first steps to any reform of America's immigration system will have to be securing our borders and enforcing current immigration law.
Right to Life:
I supported H.R. 3134, the Defund Planned Parenthood Act, which would create a moratorium on any funding for Planned Parenthood, as well as H.R. 3504, the Born-Alive Abortion Survivors Protection Act, which provides greater protection for infants that survive the abortion procedure. …
Video on Right to Life: https://youtu.be/JKO7uDOZS18
Tax Reform: 
I joined with fellow members of the House Oversight and Government Reform Committee in calling for President Obama to remove IRS Commissioner John Koskinen. Mr. Koskinen repeatedly gave misleading and false testimony to Congress, and failed to preserve evidence related to the troubling scandal in which various conservative nonprofit organizations were targeted by the Internal Revenue Service (IRS) for exercising their right to freedom of speech. You can view my remarks at the Oversight and Government Reform Committee press conference by clicking here.
2nd Amendment: 
I joined with fellow members of the House Oversight and Government Reform Committee in calling for President Obama to remove IRS Commissioner John Koskinen. Mr. Koskinen repeatedly gave misleading and false testimony to Congress, and failed to preserve evidence related to the troubling scandal in which various conservative nonprofit organizations were targeted by the Internal Revenue Service (IRS) for exercising their right to freedom of speech. You can view my remarks at the Oversight and Government Reform Committee press conference by clicking here.
Economic Growth: 
Free markets work if we allow them to work. Our energy sector alone could create tens of thousands of new jobs overnight if government would lift unnecessary burdens on developers. We have enormous energy resources with trillions of barrels of oil, trillions of cubic feet of natural gas, and enough coal to last for more than 400 years. These are resources that could drive economic growth for the next decade, which government has refused to use in the past. According to the Bureau of Land Management, the United States literally has more oil available than the entire world has used in the last 100 years.
Healthcare: 
Obamacare has not improved access to healthcare or lowered the cost of healthcare services. Instead, it has forced individuals to purchase policies they don't want, at higher premiums. Last year, major insurance companies have announced that they will no longer provide policies through the Obamacare exchange because they are unsustainable. Many companies not leaving the exchange have requested premium increases in excess of 30%.
The misnamed Affordable Care Act must be repealed and replaced with common sense free market solutions, putting individuals back in control of their selections.
National Debt: 
On Wednesday, January 6, 2016 Congress passed HR3762, a budget "reconciliation" bill that repeals components of Obamacare and places a one-year moratorium on Planned Parenthood funding. <a target="_blank" href="http://www.shelbycountyreporter.com/2015/10/16/palmer-talks-fiscal-issues-at-hoover-chamber-luncheon"> I supported this legislation.</a>
HR3762 repealed the individual and employer mandates, repealed all tax hikes associated with the original legislation, and repealed Medicaid expansion, premium tax credits, and cost-sharing subsidies after two years. The legislation used an expedited process known as budget reconciliation to overcome the 60-vote threshold that is normally required for bills to pass the Senate. The 1974 Congressional Budget Act created a special process reserved exclusively for matters relating to federal spending.
This budget reconciliation bill reduced the federal deficit by a half trillion dollars, forcing the President to confront the failures of Obamacare head on. But, most importantly, it clears the path to repealing this law with a Republican president in 2017 and replacing it with a truly patient-centered health care system.
The bill passed the House by a vote of 240 to 181.