Summary
Current Position: US Representative for AL 1st District since 2021
Affiliation: Republican
Featured Quote: 
I'm proud to join @RepMariaSalazar in supporting the people of #Cuba as they demand an end to the brutally oppressive Castro regime that has denied them basic freedoms for more than 60 years.
Featured Video: 
Rep. Jerry Carl views border situation
News
Washington, D.C. – Today, Congressman Jerry Carl (R-Mobile) issued the following statement regarding his cosponsorship of a resolution calling for the immediate resignation of President Joseph R. Biden, Jr.
President Biden's leadership failures have directly resulted in 13 U.S. servicemembers being killed at the hands of brutal terrorists, Americans being stranded abroad, our nation's reputation being humiliated on the world stage, and the Taliban seizing billions of dollars of U.S. military equipment. A majority of Americans no longer have confidence in the President's ability to lead our nation and serve as our Commander in Chief. President Biden must resign immediately.
The resolution was introduced by Rep. Clay Higgins (R-LA) earlier today.
Twitter
About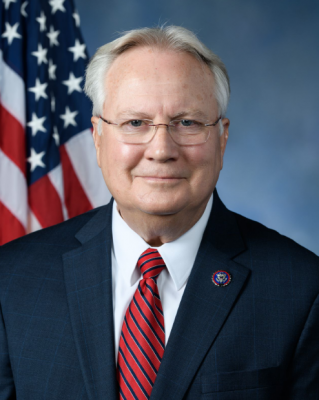 Source: Government page
Congressman Jerry Carl is a native of Mobile, Alabama, and currently represents Alabama's First Congressional District in the U.S. House of Representatives. Jerry was sworn in on January 3rd, 2021.
Jerry has been married to Tina, also a native of Mobile, for 39 years. Together, they have two children and two grandchildren. Jerry was raised by a single mother, so he learned the values of hard work and perseverance at an early age. This work ethic is what led him to start his first of many businesses at the age of 25.
Before his time in Congress, Jerry created and grew dozens of small businesses primarily dealing with home health care equipment and specialty pharmacies. He also has experience with timber management and real estate development. Until his son joined the Marines, Jerry never had any ambition of getting involved in politics. When his son returned from Afghanistan, Jerry decided it was time to do more for his community.
Advocating for Economic Development, Job Growth, and Lower Taxes
Jerry served two terms on the Mobile County Commission before running for Congress. During his time in public office, Jerry has fought to restore common sense to government, and he has been a consistent fighter for job creation, lower taxes, and family values. Jerry is a staunch defender of our fundamental constitutional rights, and he is committed to limiting the size and scope of the federal government by eliminating wasteful spending and doing away with burdensome rules and regulations.
Advancing our National Security Interests
Alabama's contribution to our nation's military strength and defense programs is vital to national security. Jerry is a natural fit on the House Armed Services Committee, where he is a staunch advocate for the defense interests of Alabama and the United States as a whole. Whether it's Austal Shipyard in Mobile, Fort Rucker in the Wiregrass, Maxwell-Gunter Airforce Base in Montgomery, or Redstone Arsenal in Huntsville, Alabama's contribution to our nation's military strength and defense programs is critical to national security.
Protecting and Promoting Alabama's Natural Resources
Jerry also serves on the House Committee on Natural Resources, where he works to promote offshore energy production, protect and expand land for recreational hunting and fishing, advocate for Alabama's timberland, manage and sustain our oceans and fisheries, and oversee tribal lands.
Voting Record
House Armed Services Committee
House Committee on Natural Resources
Subcommittee for Indigenous Peoples of the United States
Subcommittee on Water, Oceans, and Wildlife
Caucuses 
Republican Study Committee
Steel Caucus
Republican Israel Caucus
Sportsmen's Caucus
Offices
1330 Longworth House Office Building
Washington, DC  20515
41 W I-65 Service Road, Suite 305
Mobile, AL  36608
Contact
Email:
Web
Government Page, Campaign Site, Twitter, LinkedIn, Facebook, Wikipedia
Politics
Source: none
Campaign Finance
Open Secrets – We Follow the Money
Voting Record
VoteSmart – Key Votes & Ratings
Search
Wikipedia Entry
Jerry Lee Carl Jr. (born June 17, 1958)[1][2] is an American politician and businessman serving as the U.S. representative for Alabama's 1st congressional district since 2021. The district is based in Mobile, and includes most of the state's share of the Gulf Coast. A Republican, Carl served as a member of the Mobile County Commission from 2012 to 2020, the last two years as president of the commission.
In 2019, Carl announced his candidacy for the House seat being vacated by incumbent Republican Bradley Byrne. He defeated former State Senator Bill Hightower in a runoff for the Republican nomination and Democrat James Averhart in the general election.
Early life and education
A native of Mobile, Alabama, Carl graduated from Sylacauga High School in 1977. He attended Lake City Community College (now Florida Gateway College) for a time, but left to move back to Mobile and start his first business.[3][4]
Career
After leaving community college, Carl worked for Alabama Power. He then worked for Burford Equipment Company and as a salesman for various companies in Mobile. In 1989, Carl established Stat Medical, a healthcare equipment business. He later worked as a manager at Rotech Medical before establishing a real estate development firm. Carl founded Carl and Associates, a management group, in 2003. He then started Cricket and Butterfly, LLC, a lumber and timber company.
Carl ran for Mobile County Commission in 2012.[5] He defeated incumbent Mike Dean in the Republican primary election in April,[6] and won the general election in November.[7] He was reelected over Margie Wilcox in 2016.[8] In 2019, Carl was selected to serve as Commission President.[9]
U.S. House of Representatives
Elections
2020
In June 2020, Carl announced he would run for the 1st district, which was being vacated by seven-term incumbent and fellow Republican Bradley Byrne. He faced former State Senator Bill Hightower, State Representative Chris Pringle, and two others in the Republican primary. Carl narrowly defeated Hightower in the primary, and they went to a runoff election.[10][11] Carl defeated Democratic nominee James Averhart in the general election with 64.4% of the vote.[12] The 1st has been in Republican hands without interruption since 1965, and the Democrats have only managed 40% of the vote once since then.
The 1st typically gives its incumbents very long tenures in Washington. When Carl took office on January 2, 2021, he became only the seventh person to hold the seat since 1919; all but one of his six predecessors held it for at least 10 years.
Tenure
117th Congress (2021–present)
One of Carl's first votes upon joining Congress was opposing the second impeachment of Donald Trump. He said he voted against impeachment because he believed the articles of impeachment "failed to reach the necessary threshold for impeachment." He also called impeachment "Nancy Pelosi's personal vendetta against President Trump."[13] Carl voted against the American Rescue Plan in March 2021, saying the bill was "rushed" too soon after the passing of the Consolidated Appropriations Act, 2021 and that it was too big and would add to the increasing national debt.[14]
As of January 2022, Carl had voted in line with Joe Biden's stated position 8% of the time.[15]
Committee assignments
Caucus memberships
Political positions
Carl is a self-described conservative.[17]
Abortion
Carl is anti-abortion, saying in a campaign advertisement that "it's immoral to stop a beating heart". He has similarly promised to "protect the unborn."[17] Carl called Roe v. Wade "disastrous" and supported its overturning in 2022.[18]
Immigration
Carl supports the Trump wall on the U.S.–Mexico border, saying, "Jerry will stand with Trump, build the wall and end handouts for lawbreaking illegals."[17]
Gun control
Carl has said, "As a conservative, I'll stop liberals from destroying the Second Amendment."[17] The National Rifle Association's Political Victory Fund endorsed him in 2020, claiming that he supports right to carry legislation.[19]
Impeachment of Donald Trump
Carl voted against the second impeachment of Donald Trump, and voted to object to Pennsylvania's and Arizona's electors during the 2021 United States Electoral College vote count.[20]
Climate change
Carl opposed President Joe Biden's moratorium on oil and gas production, claiming it would destroy as many as 24,000 jobs in Alabama.[21]
Vote to overturn 2020 election
On January 6, 2021, Carl was one of 147 Republican lawmakers who voted to overturn results in the 2020 presidential election.[22]
Electoral history
Republican primary runoff results, 2020

Party
Candidate
Votes
%
Republican
Jerry Carl
44,421
52.3
Republican
Bill Hightower
40,552
47.7
Total votes
84,973
100.0
Personal life
Carl married Tina in 1981, and they have two children.[23]
References
External links
Issues
Source: Government page
Committees
House Armed Services Committee
House Committee on Natural Resources
Subcommittee for Indigenous Peoples of the United States
Subcommittee on Water, Oceans, and Wildlife
Legislation
Issues